Burnaby Adventist "Women's Ministry in Action"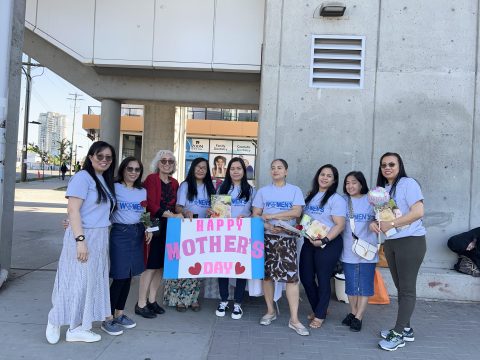 Burnaby Fil-Can Women's Ministry group decided to distribute great controversy, health and wellness, Magazines together with roses with attached verses and contact info of our church , balloons with "Happy Mother's Day" and chocolates bar. We choose Royal oak sky train station which is closer to our church.
May 13, 2023, around 7:30 our group wearing our T-shirt with our women's ministry logo in it started our activity with a prayer. We set up our stuffs close to the entrance.
At first, we noticed that some are hesitant and didn't accept it for some reasons, some of them are rushing to work, some doesn't want to take it because they don't want to carry it at work.
We felt sad, but we are not discouraged around past 8am a lot of people are coming in and out, there are those who were surprised and very delighted when we handed roses and books. We could see the smile on their face and they are very thankful and to our surprise some of them wanted to take pictures with us, and we could see how happy and thankful they are to received roses with books and chocolates. One thing while we are giving, sister Ofel is playing her guitar and singing her own compositions that added attraction to our presence at the station.
One of us told me that when she handed the flowers and great controversy the mother was hesitant to accept it but when she read the verse attached to the roses that says " you should be known from the beauty that comes from within, the unfading beauty of a gentle and quite spirit, which is so precious to God" 1 Peter 3:4, she smiled and was so thankful.
Around 9am we were able to distribute around 60 Great Controversy, 30 Health and Wellness magazines, 48 of fresh red roses, 21 Mother's Day balloons, 40 sweet chocolate bars, leaflets and small books like Power of Prayer and How to Have Peace. What we accomplished during this event was to reach out the community through those gifts and books that inspires them to look forward to another occasion that would connect again with people and would somehow lead them to seek the truth about God and His relevance in their lives, and the saving knowledge of Jesus.
We felt so blessed to have done this community outreach. This is our first women's ministry activity for the year 2023. We ended with a prayer by our elder brother Oscar Piloneo. We would like to thank our church pastor Theody and all our brethren who supported our ministry. God bless us and other departments who have upcoming activities which will be posted soon.